Skip to Content
Custom Deck Options for Seating and Plantings
McMorris Decks & Structures offers custom deck solutions that go beyond the planks and rails. Our team thinks creatively to deliver custom work that makes the best use of the space and allows homeowners to get more out of their time outside. Accessories like built-in bench seating and planters are valuable decorative pieces that add depth and functionality while making your space unique. Our services can be included in the design plans of a brand-new deck or added to a current structure. Contact us to learn more about your options.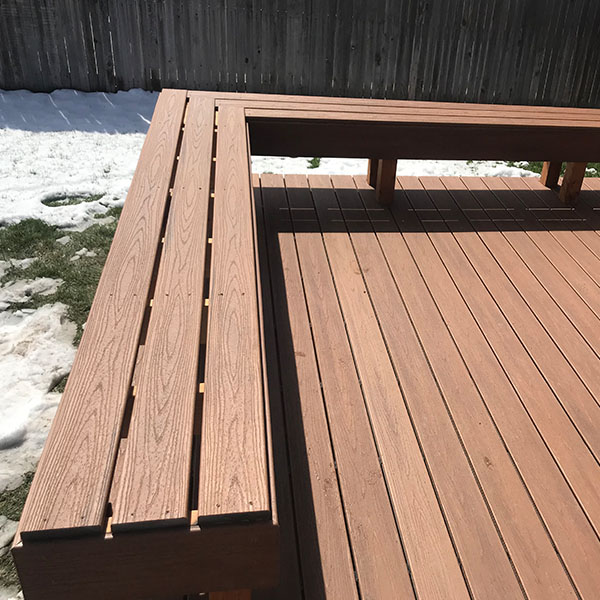 Versatile Additions to Any Outdoor Living Space
While custom decks are our specialty, every one of our services, including bench seating and planters, can be incorporated into any type of outdoor structure or area, delivering practicality and aesthetic benefits. These options are versatile, and homeowners can benefit from them in many ways because they can be added to:
Custom Deck Designs
Existing Decks
Boat Docks
Walkways
Gazebos
Pergolas
Patios
Why Add Built-In Seating or Planters?
Built-in bench seating acts as a natural border and adds definition while offering ample seating for guests. Planters add color and pop to outdoor living without worrying about flower pots getting knocked over or broken. We use superior materials designed specifically for outdoor use and back all our work with a 5-year warranty, and every structure comes with a 25-year warranty.
Professionals You Can Trust for Custom Work
McMorris Decks & Structures is committed to going above and beyond for our customers. Our owner is onsite and hands-on in every job to ensure work is completed to our specifications and the customer's expectations. We're fully licensed and insured and understand constant communication between our team and you are essential to a successful project. You can always count on us to be attentive to your needs. Get in touch with us today for a free estimate.
Contact Us to Schedule Your Estimate Today