Skip to Content
Stairs, Walkways, & Railings
Custom Stairs, Walkways, and Rails for Decks and More
Ease of access and safety are essential components to enjoying outdoor areas such as decks and hardscapes. McMorris Decks & Structures offers enhancements like custom stairs, walkways, and railings for homeowners in Utah and Salt Lake counties that offer detail, safety, and accessibility to exterior parts of your home. Whether starting from scratch or upgrading an existing structure, we can incorporate detailed work to blend seamlessly into your property.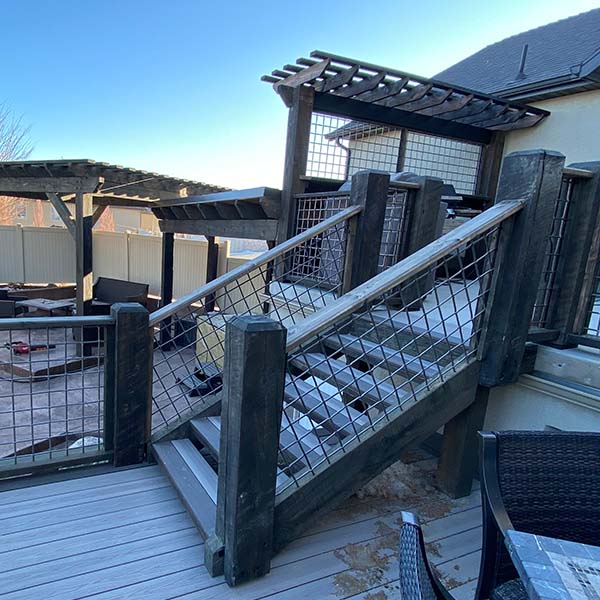 Custom-Built Stairs for Decks, Gazebos, and Other Structures
Our custom solutions for stairs offer safe and stable access to outdoor structures and multi-level decks. You might only need three steps from one surface to another or something larger, such as a full staircase from a raised deck down to the backyard. In either case, experienced construction and high-quality materials are essential for lasting stairs. Our team has the right tools and knowledge to create wide steps leading into gazebos, standard staircases for decks, and carefully built routes for multi-level spaces.
Durable Walkways for Easy Accessibility
Raised walkway structures are an attractive solution to help people get from point A to point B. Your property may require a custom walkway between two deck areas, but we also offer durable, ground-level solutions ideal for wetlands, sloped areas, and other spaces where a hardscape walkway isn't suitable. We always use high-quality materials approved for ground contact and sturdy enough for suspended walkways to ensure reliable performance and longevity.
Detailed Railings for Aesthetic Appeal and Safety
No deck, walkway, or staircase is complete without proper railings to offer stability and safety from mishaps and accidents. Local building codes lay out specific guidelines for where and how railings must be installed, and we guarantee work that abides by these for property owner assurance. Just because railings are a safety feature doesn't mean they can't be attractive and elegant. We'll go over designs and materials to match your style where you need railings installed.
Work With a Professional Team in Salt Lake and Utah Counties
If we're building a custom deck or outdoor structure for you, we can incorporate these details into your design. Have an existing deck that needs a little TLC or expansion? We're here for that too! At McMorris Decks & Structures, we're passionate about executing ideas exactly how you envision them. Contact us to discuss your plans today.
Contact Us to Schedule Your Estimate Today