Skip to Content
In-Deck Hot Tubs & Spa Surrounds
Take Deck Living to the Next Level
One of the most popular features for decks is including a hot tub or spa in the area. McMorris Decks & Structures offers custom solutions for in-deck hot tubs and spa surrounds for homeowners in Salt Lake and Utah counties to bring a resort-style experience right to your doorstep. These features offer year-round enjoyment to outdoor living, whether relaxing under the stars on a warm evening or sitting in the comfort of a hot spa as the snow falls around you. Let's discuss your ideas, and we'll provide you with a free estimate and professional design plan.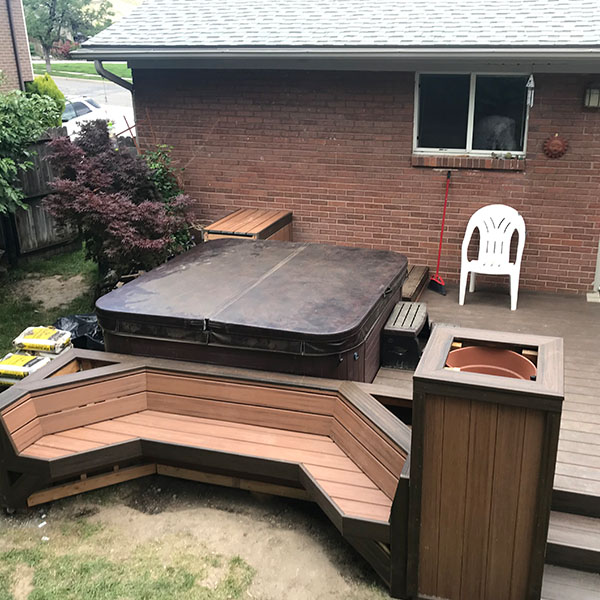 Customize Your In-Deck Hot Tub Experience
Hot tubs are a type of spa that comes in an enclosed case, usually, a wood finish, that contains all of the plumbing components within the casing. This construction allows them to be easily installed just about anywhere, making them ideal for decks and other outdoor spaces because they don't require additional plumbing hookups. However, accessibility into the hot tub is easier and more convenient to get in and out with custom deck construction, such as stairs or a landing. Our custom in-deck hot tub solutions also provide a more natural look as we make deck areas blend seamlessly with the hot tub.
Beautifully Crafted Spa Surrounds for Your Deck
A spa functions like a hot tub, offering the hydrotherapy of warm water and the soft massage of powerful jets, but they're not enclosed like a hot tub. Our custom spa surround solutions offer professional options to build your spa into the deck, concealing plumbing and electrical connections so you can enjoy a peaceful atmosphere without any clutter or distractions. Our designs can include 3D renderings of your options, and we use high-quality materials suitable for wet conditions.
You'll Be Delighted With Our Finished Work
The surrounding environment has as much to do with relaxation as the warm healing benefits of a hot tub or spa. McMorris Decks & Structures offers custom in-deck hot tub and spa surround construction services to create a little oasis just outside your door. Whether you need it to relax, heal from an injury, or soak in the benefits of hydrotherapy, a hot tub or spa with a custom surround will do wonders for your physical and mental health. Get in touch to schedule a free consultation to learn more.
Contact Us to Schedule Your Estimate Today