Skip to Content
Add Security and Comfort With a Privacy Wall
Your home is a personal, safe space away from the hustle and bustle of daily life and work. When relaxing outside or tinkering in the yard, it's comforting to know you're surrounded by the privacy that owning property can provide. The team at McMorris Decks & Structures can enhance the privacy of your deck, patio, driveway, or other areas with attractive privacy wall construction that will not only increase your privacy but add landscape appeal as well. Contact us today, and let us show you what we can do to make your home feel more secure.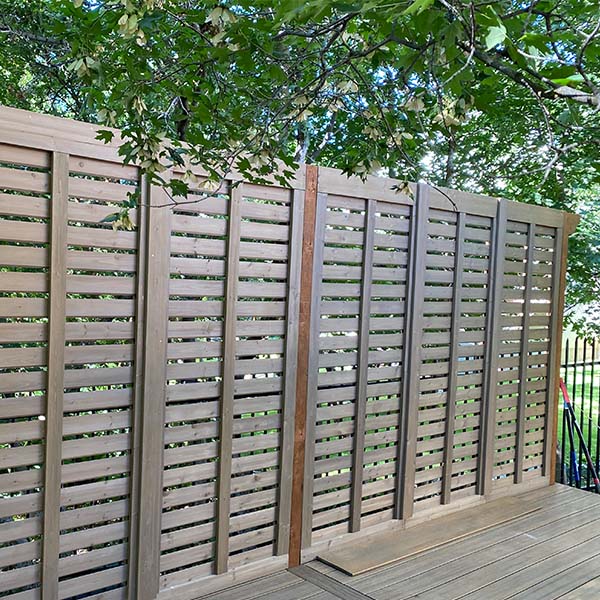 Do I Need a Privacy Wall on My Property?
Your backyard retreat can be a sacred area. Just as you wouldn't want a person peering into your window as you watch TV or prepare dinner, it's uncomfortable to think someone might be eyeing your deck or patio as they pass by when you're entertaining guests or reading a book. When properly designed and built, privacy walls can offer just enough obstruction for your peace of mind without diminishing outdoor enjoyment. You might consider a privacy wall for various reasons, such as:
Your neighbors are very close
You live on a busy street
Your deck is high and visible below
Your property lacks natural borders or trees
Your deck or patio includes a hot tub
Benefits of Adding a Privacy Wall on Your Property
The primary reason property owners install a privacy wall is to enjoy solitude. However, these structures offer advantages you may have yet to consider. A privacy wall is an attractive and tasteful way to enjoy these additional benefits.
Noise Reduction
If you live near a busy street, have loud neighbors, or are in an urban area, a privacy wall will help shield noise.
Weather Protection
It will act as a barrier against strong winds, or if weather patterns tend to roll in from a specific direction, the wall can help deflect rain, sleet, and snow.
Increased Safety for Kids and Pets
Keep your children and pets safer by offering a protected area for play.
Added Dimension
Our designs are custom-crafted, which means we can construct an aesthetically pleasing piece that adds to the dimension and style of your landscape and home.
Get a Free Estimate for a Custom-Built Privacy Wall
A privacy wall is a wise investment to enhance your property while delivering peace of mind. Our locally owned and operated deck-building company will work with you to deliver a finished product that meets your needs and matches your style. Contact us to schedule a free consultation to learn more.
Contact Us to Schedule Your Estimate Today